NML 21st Birthday Party
Friday 29th August 2014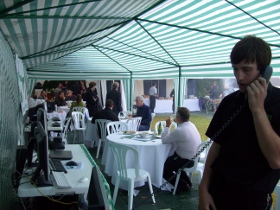 NML are proud to announce that we will be celebrating our 21st Birthday on the 25th September 2014.
INVITATION TO NML's 21st BIRTHDAY PARTY!
We would be honoured for all of our clients to join us on September the 25th, from 1pm onwards to celebrate our 21st year of business. This party is being held to say a massive thank you to all of our loyal clients who have helped us reach this momentous milestone!
Please join us at our office in Copthorne (MAP) with a marquee, bar, and the best in South African Braai / BBQ . If you have never tried boerewors (South African sausage) served the traditional way, here is your chance. All the traditional BBQ foods will be served, including an option for the veggies let us know any special requirements and we will endeavour to provide.
The day will include informal talks on some of the most popular technologies of the time and these will be spread throughout the day. Subjects will include:
The sky's the limit – Welcome to the Cloud.
System Monitoring –  How NML monitors your systems.
Efficient Working – Getting the most out of your employee's and IT systems.
This invite is for all of our clients, their esteemed colleagues, and partners.